---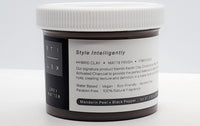 GREY MATTER hybrid clay 3.38oz.
matte finish. firm hold
mandarin peel + black pepper 
Our signature product blends Kaolin Clay, Emulsifying wax & Activated Charcoal to provide the perfect balance of plasticity and hold creating matte texture and definition for all hair types.
Application
Work a small amount between palms and apply evenly through dry hair – style with hands. If firmer hold is needed, repeat step one. Work Thoroughly.
ACTIVE INGREDIENTS
Kaolin Clay.
Encourages hair growth, improves elasticity & helps repair damaged hair. A natural gentle exfoliant for your hair & scalp. Stimulates blood circulation. Helps treat dandruff.
Emusifying Wax.
An emulsifier sourced from naturally occurring fats and esters. Maintains moisture and assists with wash out.
Activated Charcoal.
The GREY MATTER. Antioxidant for all skin types. Removes excess oils and other debris during wash out without overdrying. Effective in treating oily skin, acne, and cleaning pores while nourishing. This natural ingredient serves as a mild exfoliant gentle enough to use daily.
Water Based . Vegan . Eco-Friendly
Alcohol Free . Paraben Free .
100% Natural Fragrance
Distributed by ETIKET BARBER & Co
Small Batch Hand Poured in Vancouver, BC V6B 252